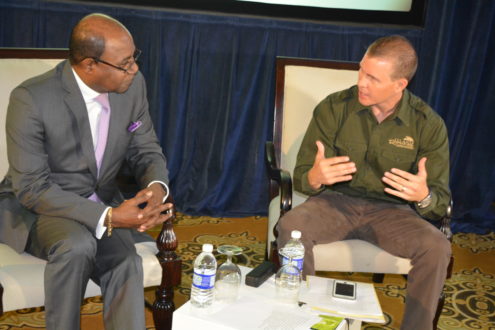 Minister of tourism, Edmund Bartlett has called on Caribbean stakeholders in tourism to take a collaborative approach in pushing tourism forward in the region.
Bartlett, who was speaking at the first Island Routes Caribbean Adventures certified partner conference on Wednesday, September 14 at the Sandals Ochi Beach Resort, also stated that multi-destination tourism was the most competitive approach to take.
A multi-destination tourism trip is defined as a single trip that includes the visit to more than one destination. Therefore, a multi-destination tourism concept implies a strategy shared by two or more countries that offer and promote a joint product or route.
Bartlett also stated that Jamaica has already signed a multi-destination tourism deal with Cuba and is in the process of signing a deal with Mexico, Dominican Republic and Bahamas.
Chief Executive Officer of Island Routes Caribbean Adventures, Adam Stewart called on the several stakeholders present at the conference to "place the framework of linkages in their mind" for the future in tourism.
Over 50 of the Caribbean's top attractions providers have come together at the conference to discuss industry challenges and opportunities for growth and development.
The conference ends on September 16.